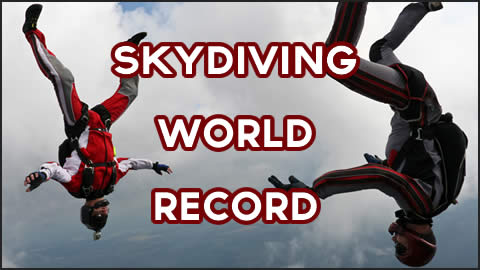 A new vertical skydiving world record was set this past Friday in Ottawa, Illinois, as 164 divers traveled at speeds up to 240 mph and came together to form a flower formation in the Midwest sky. It took the team of international divers 13 attempts before they upped the record from 138 skydivers 3 years ago at the same location.
The record-breakers — all exiting at 19,700 feet above Skydive Chicago from seven aircraft — stayed in the flower formation long enough before breaking away from one another at 7500 feet, cheering as they fell to the ground before deploying their parachutes.
Best of all, the record-breaking team comes from all corners of the world: many of the contingent came from all across the United States, but other members of the team came from Spain and Australia as well.
Of course, this dive didn't come without risks: when dives are executed from such a high altitude, there is a risk of divers colliding into one another. If there's a crash, certainly, the effect is lost. However, if executed correctly, the dive can be beautiful…as was the case here.
Norman Kent is a videographer who frequently films skydiving jumps, and filmed this latest record-breaking jump as well. "When (record) jumps work well, it's like there's a certain peace to it all, a certain harmony to it all. And it's contagious, it's like it's in the air and you can feel it even from a distance as a cameraman," he said to the Associated Press.
Congratulations to the team!