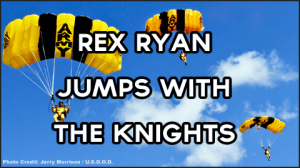 Sometimes just jumping out of a perfectly good airplane and freefalling through the air is not enough for the typical thrill-seeker. Sometimes, the location over which one skydives is just as important as the actual experience. That seemed to be what Rex Ryan, the head coach of the Buffalo Bills, was thinking when he decided to spend the July before the start of football season doing something he had never done before, which was jumping from thousands of feet at the 2015 Thunder of Niagara Air Show, near the famous falls.
Ryan is usually in the news because of his, to mildly put it, his boisterous behavior. Last season, when he was still coaching the New York Jets, he was spotted cursing at an unidentified person and was fined by the NFL $100,000, the latest in a number of similar incidents. He was also dismissed from the Jets, having presided over a number of losing seasons for the struggling team. He remained popular with the players, however. He was snapped up almost immediately by the Bills.
Rex Ryan, coach of the Buffalo Bills football team had the opportunity to jump with the Army Golden Knights at the Thunder of Niagara Air Show recently. Watch as SFC Jon Ewald takes the coach for a 120 MPH ride above Niagara Falls Air Reserve Station. #ArmyTeam #DOD #BuffaloBills #BuffaloNY

Posted by US Army Golden Knights on Monday, July 27, 2015
Ryan took off, in the company of the United States Army's Golden Knights parachute team. He jumped in tandem with a member of the team. He free fell for about a minute before the parachute opened and scored a different kind of touchdown on a grassy landing area at the Air Station.
When asked why he did the jump, Ryan replied, succinctly, "I like living." A good enough reason as any for falling through the morning sky.