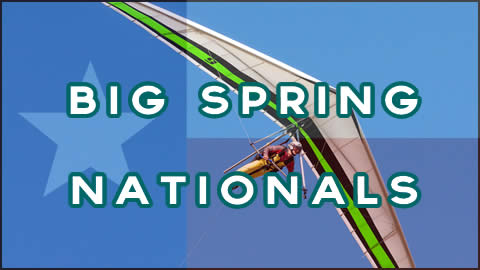 Weather Hangs Up Hang-Gliders at the 2015 Big Spring Nationals in Big Spring, Texas
The site best known for its steady, great flying conditions didn't want to cooperate at the 2015 Big Spring Nationals in Big Spring, Texas.  Rain and variable winds created multiple launch delays and, more disappointing, shorter tasks for the 32 competing pilots.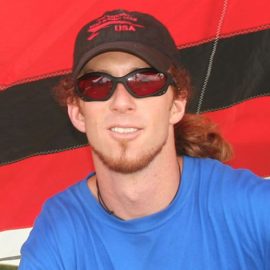 While veteran Zac "Zippy" Majors didn't get to "zip" as much as he wanted weather-wise, he nevertheless won the event's open competition and holds firmly onto his #1 NTSS ranking.
A dismal day one seem to predict the first half of the race.  When thunderstorms threatened the finish-line area, officials called the race an hour after the start. They based the day's scoring on the distance a pilot flew before the shut-down.  At that point Davis Straub was in the lead.
Day two continued to display uncertain weather, this time due to wind. Launch times were delayed two hours.  The end of the day found David Gibson on top.
Day three produced more of the same problems.  Bruce Barmakian led that day but Majors moved from #6 up to #4 in the points.
Day four began with heavy winds, causing a 20-minute delay in the start. While the forecast offered higher and easier climbs, the tasks took a hit. They had to be shortened for the third time in the race.  Bruce B. kept his lead, but Majors climbed again, from #4 to #3.
The rest of the race continued in good weather and good flying.  Majors took over the lead and had no problems going the rest of the way. James Stinnett came in second with David Gibson placing third.
With five out of the seven scoring competitions out of the way, it looks as if Majors could be the 2015 National Champion. Michael Bilyk, who ranked #2 in the NTSS prior to the Big Spring competition, did not participate in the event.  Stinnett held 5th place in the ranking, while Gibson was 38th. With the exception of Majors, expect a change in the rankings as a result of the Big Springs results
The final two national championship events include the Dinosaur at Cliff Ridge, CO., and Blue Mountain, Utah, from 8/30 to 9/5 and Santa Cruz Flats Race at the Francisco Grande Gold Resort in Casa Grande, AZ from 9/13 to 9/19.  Not much breathing room remains for the rest of the competition to knock out "Zippy", but nothing ever remains certain in the field of sports.