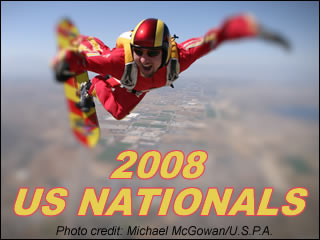 The 2008 U.S. National Skydiving Championships was held between October 19-25, 2008 in Elroy Arizona. This year's event was hosted by Skydive Arizona.
Skydiving disclipines consisted of Formation Skydiving, Canopy Formation, Freestyle Skydiving, Skysurfing, Freeflying, Freefall Style, Accuracy Landing, and Vertical Formation Skydiving.
With eighty competitors and great weather, this year's event was a big success. Included in this year's event were 12 women competitors and the first ever all-women's team in the competition.
Complete results can be found at http://www.omniskore.com/comp/2008/usnats/index.asp