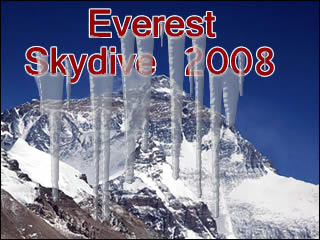 Move over Sir Edmund Hillary, there is another way to see the top of Mount Everest !
Skydivers from around the world converged on Shyangboche at the foot of Mount Everest for the first annual "Everest Skydive".  The event was organized by the "Explore India" and Nigel Gifford of "High & Wild UK" and held from October 3-11, 2008.
At total of 41 jumpers set world records in this year's event. Some divers elected to step out at 19,000 feet while most took the leap from 29,500 feet msl, just 465 feet above the top of Mount Everest which peaks at 29,035 feet. While most jumpers were solo, there were several tandem jumpers in the group.
The first Americans in the group were a father & son team. Sixty-year-old lawyer Lou Diesel and his 40-year-old son, Scott, tandemed from an elevation 29,500ft after stepping out of a Pilatus Porter airplane.
After freefalling some 13,000 feet in a minute the skydivers opened their chutes at 16,000 feet and glided to the drop zone in Shyangboche at 12,350 feet msl. Shyangboche is now the highest drop zone in the world.
The jet stream on Everest usually runs between 100 and 200 mph over the slopes with the exception of two periods, one in the spring, and the other in the fall. Jump organizers choose the October dates when the jet stream was pushed north of Everest.
Reservations are now being accepted for the May, 2009 for those who are interested. Contact High & Wild UK for more information.
Mt Everest Quick-facts
Mount Everest is named after the first Survey General of India, George Everest who first surveyed the Himilayans in the early 1800's.  The name was suggested by Everest's successor to Survey General. Everest objected to naming the mountain after himself because the local language did not have a direct interpretation for his name.
It was first summited by Sir Edmund Hillary on May 29, 1953 and his guide from Nepal, Tenzing Norgay via the southern route.
Over 2400 people can claim they have reached the top. Most climbers attempt to reach the summit in May while the jet stream is pushed north of the mountain.
Over 200 people have died while climbing Everest and over 120 bodies still remain frozen on Everest. The highest cause of death on Everest is avalanches.