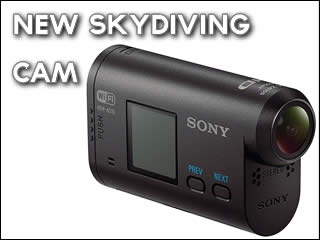 Have you ever been skydiving and wish you could have given your friends a bird's eye view of such an exhilarating experience? Or better yet, have you heard of a skydiving world record and wished you could have seen what that diver saw?
Well now you can.
Electronics giant Sony recently unveiled a new camera about to hit the market that was created with skydivers, mountain climbers, surfers and other such adventurists in mind. To show how serious they are about connecting with these types of fans, Sony announced the camera in late August at IFA 2012, Berlin's largest electronics show.
Sony calls its HDR-AS15 a sleek, super lightweight and compact HD cam that is built for the elements. They tout the camera's ability to hold up in the harshest conditions, including, snow, rain, wind and more. This small, waterproof camera can operate all the way down depths of 60 meters.
This camera has a variety of recording modes and contains still photography and lengthy recording times. It supports external storage devices, such as microSD cards and memory sticks.
This camera will hit store shelves in the United States in September. They're also coming out with a wi-fi version of the camera, which will allow users to directly upload videos to their iPhone or Android phone and straight to social media networks. United States skydivers will be able to get their hands on this piece of equipment before the rest of the world, as it doesn't launch in Europe until October.
More info and images