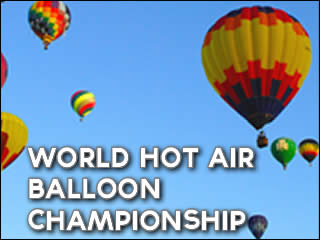 Kentucky is known for a lot of things. Add to the list a history of winning hot air balloon competitions.
Nick Donner, of Louisville, a five-time national hot air balloon champ exceeded his accomplishments recently, by taking home a world hot air balloon championship.
He won the title in late August at the 20th Federation Aeronautique Internationale World Hot Air Balloon Championship in Battle Creek, Mich.
Donner got a chance to hear the United States national athem when it was all said and done, as he became the organization's best hot air balloon pilot.
The competition featured 6 days of flight by 99 competitors from 30 different countries. The second and third place competitors were from Hungary and Japan. Donner's own brother, Chase Donner won fourth place.
This hot air balloon news brings pride to the sport, especially for hot air balloon pilots in the US. The organization streamed the opening ceremonies from its website so that people from all over the world could watch. Coming on the tail end of the Olympics, this sense of national pride is a positive for Americans looking to get into the sport and take advantage of opportunities to compete on a national and global level.
Having a world class event held on US soil is also a plus for the sport, as Battle Creek in recent years has hosted the event more than any other city on the planet.
The next hot air balloon world championship will be held in San Carlos, Brazil in 2014.