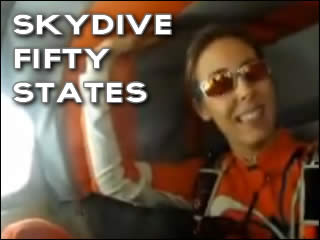 Life seemed bleak for Nicole Smith – a Georgia native – after a terrible car accident on June of 2011 left her battered and beaten. With a broken neck, back, four pelvic fractures, a few broken ribs, and a brain injury Nicole Smith was told she may never have a normal conversation and would likely never walk again. This incident not only left her physically damaged but emotionally impaired as well.
Nicole Smith took her first skydive in January of 2011, where she began to fall in love with her sky diving instructor, Jeremy Marston, who was in the car during the accident. Marston died at the scene. And even though the odd's were seemingly against her, Smith made a full recovery and accomplished something no one thought possible.
Nicole Smith made skydiving news after a monumental triumph. After months of physical therapy and pure determination, Smith began to see life with a fresh perspective and decided to take advantage of this second chance. Her goal was to conquer the skies of 50 states, and that's exactly what she did. Her drastic recovery led her to see life in a different light, to appreciate the small things that make life what it is.
She ended her spree of jumps in Osage City, Kansas, where she claimed that this was merely the beginning with saying, "Now on to five more continents. Five more to go." Nicole Smith is living proof that if you want something bad enough if you have the courage, motivation, and perseverance to accomplish something, nothing can stand in your way.