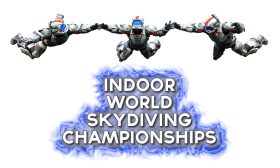 Indoor skydiving has become the newest craze for those seeking the thrill of skydiving without the risks. But indoor skydiving is not just for the timid amateur and an upcoming event is making indoor skydiving news. World renowned, iFly Singapore, the world's largest skydiving windtunnel, will host the 2012 Indoor Skydiving World Championships this December 13-16.
FAI-certified judges from the USA, Australia, South Africa, Sweden, Russia and Finland will preside over the event.  It is expected that 400 entrants from around the world will participate in the competition which features five disciplines in the professional category.
The USA will be represented by Teams Arizona Airspeed, Antigravity XP, and Arizona Arsenal competing in Four-way Formation Skydiving, Freefly and Vertical Formation Skydiving respectively.
Professional competitions include:
Four-way formation skydiving
Four-way vertical formation
Two-way freefly
Two-way vertical formation
NeoFreestyle
Amateurs are not left out, there will be competitions for them as well. For neophytes, there are three disciplines in the amateur category:
Four-way formation skydiving
Two-way freefly
NeoFreestyle
Contestants in the professional categories will compete for cash prizes worth a total of $150,000SGD ($122,850 USD).  There are no cash prizes for winners in the amateur competitions.
The 2012 Indoor Skydiving World Championships will run for four days from December 13 through December 16.  ESPN will be covering the event, a first for indoor skydiving.
iFly Singapore on Sentosa Island boasts an air-conditioned wind tunnel that is 16.5 feet wide and 56.5 feet tall, or about five storeys high. The wind tunnel also features an acrylic glass wall that offers a scenic view of the South China Sea. iFly Singapore first opened in 2011.
Additionally, iFly Singapore will be offering 30 outdoor tandem skydives to the public on December 15. These skydives will be made from a helicopter while attached to an experienced tandem skydiver.
If you would like to follow the action visit the Indoor Skydiving Championship website between December 13th – 16th.