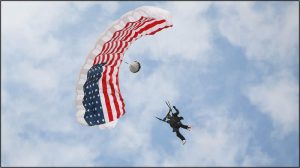 The conclusion of the 2012 FAI World Parachuting Championships Mondial in Dubai dominated skydiving news this week. The US Team finished second in the competition behind France, with the US taking six gold medals in the competition.
Curt Bartholomew, 26, of Lehigh County, Pennsylvania, won gold medals in 3 events including Canopy Piloting Overall , CP Speed, and CP Zone Accuracy. Bartholomew took 3rd place in CP Distance while fellow US Team member, Nicholas Batsch, took Gold in this discipline. Bartholomew has been a professional skydiver for only four years, becoming a professional skydiver in 2009. Although his original career goal was to become an air traffic controller, Bartholomew intends to continue his skydiving career, even forming his own skydiving team, Team Alter Ego.
The Arizona Airspeed team scored gold medals in 4-Way Open Formation Skydiving. Based at Skydive Arizona in Elroy, Arizona, this team has a long history of winning championships. Veteran Arizona Airspeed skydiver Mark Kirkby has been with the team since it's inception in 1993. This was a sweet victory for the team considering they took 2nd place at the 2010 World Championships.
The US Army Golden Knights took gold in the 8-way Open Formation Skydiving at this year's World Championship. Fresh off an impressive 50 Gold Medals and 8 Bronze medal at the 2012 US National Skydiving Championships, held in Eloy, Arizona, the team was favored as medal winners at the worlds.
The US Lady Army Golden Knights took an impressive 2nd place in women's 4-way after being the first female team to ever medal at the US Nationals in Arizona early this year.
Still, the US team's top rival, France, took home first honors in 8 competitions, their best-ever performance in a World Championship.  France came first in Vertical Formation Skydiving, Style Male, Formation Skydiving 4-way Female, Formation Skydiving, Formation Freediving, Canopy Formation 4-way Rotation, as well as Canopy Formation 2-way Sequential and Canopy Formation 4-way Sequential.
China took gold in two competitions, senior women's and junior men's accuracy while Russia's Taisi Krivoshchekova secured gold in the women's junior accuracy competition over China's Wang Sai by a small margin in a hotly contested event.
The FAI World Parachuting Championships Mondial 2012 Dubai were held at the SkyDive Dubai, at The Palm Marina, under the patronage of Shaikh Hamdan Bin Mohammad Bin Rashid Al Maktoum, Crown Prince of Dubai and Chairman, Dubai Sports Council. A record of more than 1600 competitors from 57 countries participated in the 12 days of championship competition that concluded on December 9, 2012.
USA Team Medal Count
GOLD MEDALS
CP – Overall – Curt Bartholomew
CP – Speed – Curt Bartholomew
CP – Zone Accuracy – Curt Bartholomew
CP – Distance – Nicholas Batsch
FS – 4-Way – Arizona Airspeed (Mark Kirkby, Thomas Hughes, Joshua Hall, Niklas Hemlin, Nick Grillet, Bill Schmitz)
FS – 8-Way – Golden Knights (Brian Krause, Kurt Isenbarger, Matthew Davidson, Sean Sweeney, Justin Blewitt, Joshua Coleman, Michael LaRoche, Lawrence Miller, Andrew Star, Jesse Stahler)
SILVER MEDALS
CP – Overall – Nicholas Batsch
CP – Speed – Thomas Dellibac
AE – Freefly – SoCal Converge (Andy Malchiodi, Matt Lewis, Travis Fienhage)
FS – 4-Way Female – Golden Knights (Angela Nichols, Laura Dickmeyer, Dennielle Woosley, Jennifer Schaben, Scott Janice)
CF – 2-Way Sequential – Clean Air (Chris Gay, Brian Pangburn, Eli Godwin, Yuliya Korkh)
CF – 4-Way Sequential – Clean Air (Michael Paolin, Chris Gay, Brian Pangburn, Eli Godwin, Yuliya Korkh)
BRONZE MEDALS
CP – Distance – Curt Bartholomew
VFS – SDC Standard XP (Jason Peters, Rook Nelson, Mickey Nuttall, Will Pesek, Dalton Samuelson)