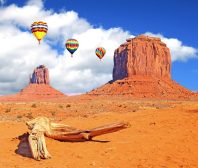 Hot air balloonists will kick off the New Year in style with the Monument Valley Balloon Event.
The 3rd annual festival is being promoted by the Navajo Parks and Recreation organization. Festival activities begin on Jan. 11 and conclude on Jan. 13.
The event calls for morning launches on Friday, Saturday and Sunday between 8 and 10:30 a.m. Friday and Saturday schedules wrap up with a balloon glow in the evening. The event concludes with a Sunday morning launch between 8 and 10:30.
Monument Valley is a sacred site for the Navajo people and one of the most iconic of American landmarks, having appeared as a feature in dozens of movies, including old westerns and modern science fiction films. The scenery and history of the area attracts thousands of tourists each year who marvel at the unique sandstone cliffs rising out of the surrounding desert landscape.
The Valley features a number of sandstone buttes, reaching as high as 1,000 feet, and featuring colorful nicknames like The Mittens, Totem Pole, The Thumb, and Three Sisters. The area is located on the Arizona-Utah border within the boundaries of the Navajo Reservation.
The balloon event, which started with a few hundred visitors, last year drew more than 5,000 visitors.
In addition to seeing balloons fly in the Valley, guests can also enjoy day-long entertainment events on Friday and Saturday which will include nature hikes, music, dance, arts, food, cultural displays and special activities for young people. Saturday's events include a fashion show.
For more information please visit Navajo Nation Parks