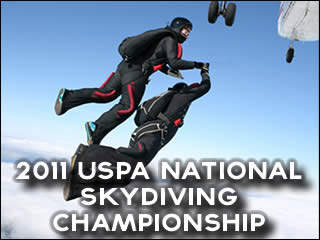 The 2011 USPA National Skydiving Championships was held between October 26 and November 5th at Skydive Arizona in Elroy, Arizona. Near perfect weather allowed more than 500 jumpers to take to the sky and complete all of their jumps.
Team Arizona Airspeed took first place in the 4-way open to no one's surprise with the U.S. Army Golden Knights taking second place.
The U.S. Army Golden Knights took first place in the 8-way open and the 10-way open.
Team Skydive Ricks won the Gold Medal in Accuracy for the sixth straight year at the USPA Nationals.
For complete scoring visit OmniSkore.
For complete competition videos visit Skydive-tv.com.