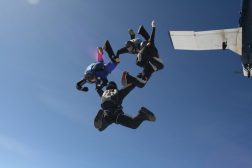 America's best of the best in the skydiving world have been gathered in intense competition to determine who is the elite. The USPA National Skydiving Championships have been taking place in Eloy, Arizona since last Thursday.  A plethora of eager and talented skydivers are taking their chances to compete for the opportunity to join the United States team in the World Parachuting Championships.
The trials of the USPA Nationals happening in Arizona consists of skill tests such as accuracy landing, free-fall style, formation diving, among other artistic feats of grandeur.
Hundreds and hundreds of professional skydivers have been flaunting their abilities from morning till sunset each day of the competition.  From local Arizona teams, all the way to the Army's Golden Knights are floating to the earth in perfect weather allowing this event to transpire.
The Lady Army Golden Knights Team has already done well in this competition, being the first all female team to take a medal. Way to go ladies!
If you're in the Arizona area, or feel like coming to see who will represent the US in the World Championship, the event is free to the public with tandem jumps available to those who would like to give skydiving a shot.
The competition will be finished up this Saturday, November the 3rd, with the finalists being selected and moving on to compete in the World Parachuting Championships.  These will be taking place in Dubai, United Arab Emirates from November 28th to December 9th.
Air Sports Net is interested in your photos and comments from this event. If you care to share, please feel free to contact us.
During competition hours you can check out the live video feed at
Check back with up after the event is over and will give you a run down on the finalist.