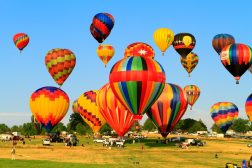 Early November is a wonderful time to take flight over the Nevada desert. It's also a great place to attend a ballooning event. Las Vegas organizers are hoping to make hot air balloon news and are saying bring the whole family to watch.
There's a big weekend waiting ahead for air ballooning enthusiasts in Las Vegas, Nevada. The Las Vegas Balloon Fest will be happening this Friday through Sunday, November 2nd through 4th. The three day celebration will feature plenty of activity on the ground as well as in the sky and is being billed as "Three Days of Pure Family Fun".
This event has been organized as a fund raiser for the Las Vegas Search and Rescue unit. Some of the daily events will include a carnival, many local food vendors, live music every day and helicopter rescue demonstrations. Of course, there will also be daily balloon flights and the event is expected to draw more than thirty hot air balloons over the three days of fun in the desert.
Organizers are predicting that at least 20,000 spectators will be on hand as balloons fill the skies in Las Vegas. The event will be held at Southern Hills Hospital and Medical  Center, 9300 West Sunset Road.  There's a big morning launch planned each day, then activities will occur all day during the Fest.
The Las Vegas Metropolitan Police Department Search and Rescue unit responds to emergency calls over an amazing 8000 plus square mile range that can include a wide variety of desert and mountainous terrain.
Balloonists from all over the western United States are expected. For information on other events throughout the country visit our calendar or contact us to let us know about your event.