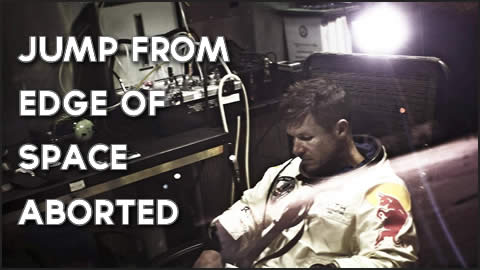 Felix Baumgartner's potential skydiving world record mission delayed due to gusty winds.
After an initial five hour weather delay, plans were made for launch when a brief, calm winds window occurred but there were other problems which caused a delay including a problem with inflation of the balloon and a problem with one of the two radio systems in the capsule.
Baumgartner would have been the first free falling human being to break the speed of sound and would have fallen 23 miles.
A jump tomorrow is questionable due to weather, the weather is also expected to continue to deteriorate throughout the week.
Winds were only 17 miles per hour when the decision was made to abort the Red Bull Stratos mission but mission control deemed that enough to call for the delay. The plastic air balloon is one-tenth the thickness of a sandwich bag and wind gusts threatened the balloon and the launch trajectory. The team had hoped winds would calm down to below 3 miles per hour.
There is one back up balloon, however the one used today can not be used again tomorrow.
Previous attempts to break the world record have cost a Frenchman nearly $20 million and claimed the life of an American, Nick Piantanida, a New Jersey truck driver who died from brain injuries after his suit depressurized in 1966. Mr. Kittinger said he joined this project, called Red Bull Stratos, after the energy drink, because he considered it the first with the resources to do the job properly, thanks to the scores of aerospace veterans hired by Red Bull.