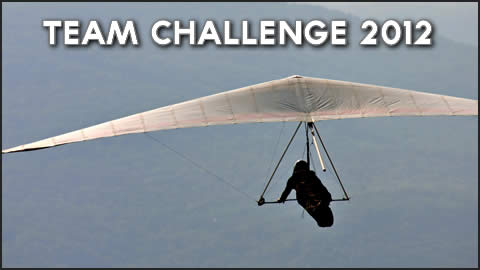 The Tennessee Tree Topper hang gliding club hosted its annual Team Challenge at the club headquarters above the Sequatchie Valley, Tennessee this week.
The TTT event is a 7-day program aimed at providing cross country flying experience and competitive flying training to less-experienced pilots. The Sequatchie Valley is one of the country's top cross country flying sites.
The pilots are organized into teams with experienced "A" pilots mentoring and training the Hang 3 and Hang 4 pilots and the teams compete in a series of daily challenges for which points are awarded.
When not flying, pilots attend clinics, seminars and other organized sessions designed to help them develop their flying and competition skills.
The competitive field is limited to 50 flyers.
This year, the Southern Para Pilots  (Facebook) are joining the Treetoppers for team event of their own. This is the first team event for the SPP.
In the TTT team competition, teams consist of five or six pilots but only five can compete in any daily challenge. The scores are handicapped to a normalized score of 100 for completing a task. Handicaps are assigned for glider type and for pilot skill levels.
Thee daily competitive tasks are assigned by skill level with easier tasks for C pilots and more difficult challenges for A pilots.
Flyers not involved in the can attend the training and educational programs.
The event is also sponsored by The Foundation for Free Flight which endorses the team competition concept.
The Team challenge concludes on Oct. 6 with an Oktoberfest celebration and the awards dinner and closing party.
For final scores visit the Tennessee Treetoppers Facebook Page.