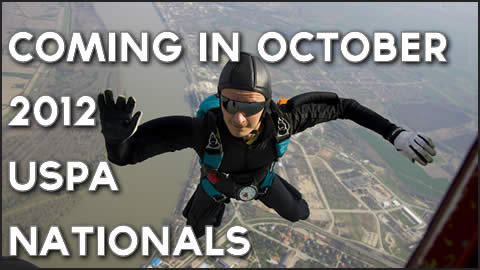 With fall approaching, it's almost time for the biggest skydiving event on the planet. The USPA National Skydiving Championships, a two week long event, brings skydivers from all over for the biggest yearly event of its kind in the world.
The championship, held Oct. 24 through Nov. 3 will feature over 500 skydiving competitors from the United States. These skydivers will participate in more than 30 different events! These events will feature solo jumpers and team competition.
Some of these events include vertical formation, formation, freeflying, freestyle, freestyle and accuracy and canopy skydiving.
Vertical formation skydiving involves teams of four people performing acrobatic moves. This occurs during a freefall in which teams carry out as many formations as they can, much like synchronized swimming.
Another popular event is formation skydiving. In this event, even larger teams of anywhere from four to 16 competitors skydive while beating the clock in order to get in as many quality formations as possible before allow their parachutes to deploy.
Freestyle skydiving allows divers to dance and perform while falling from 13,000 feet or greater, while freeflying allows teams of three people to free fall at great speeds with choreographed routines.
In the freefall style and accuracy competition, jumpers go through loops and turns in the midst of their fall as fas as possible, before attempting to hit incredibly small targets. With the canopy formation, teams of two to eight jumpers allow their parachutes to work immediately, while building formations as fast as they can.
As you can see, this event features a variety of situations that skydiving enthusiasts will enjoy competing in or watching. This year's championship takes place in Eloy, Arizona, which is about an hour from Phoenix.
Skydiving fans come from far and wide for this event, which is positive for the sport in the United States since it takes place on US soil. Many will go home with championship titles and bragging rights for yet another year, before next year's event.