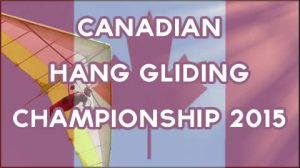 In hang gliding news, 26 competitors traveled from 6 different countries to compete in the recent Canadian Hang Gliding Nationals between June 28th and July 4th, 2015. The event has been an annual event in Lumby, Canada for the past 11 years, and this year had a great turnout.
Competitors flew five tasks in seven days. The overall top finishers in the Open Class competition include:
David Gibson of the United States (Utah)
Jonas Lobitz of New Zealand
Bruce Barmakian of the United States (California)
Dustin Martin of the United States (Arizona)
Konrad Heilman of Brazil
Tyler Borradaile of Canada
Wolfgang Siess of Austria
Rory Duncan of Australlia
Ross Hunter of Canada
Marcelo Menin of Brazil
For full scores and photos visit http://lumbyairforce.weebly.com/blog
David Gibson, often referred to as "Dangerous Dave" is well-known in the hang gliding community and while his nickname insinuates he is a risk-taker, he is also well accomplished and one of the best in the business. You can experience what it's like to fly with David on this video, which wasn't taken at this competition, but one of his launches near Randolph, Utah, his home base.
Tyler Borradaile of Kelowna came in first place amongst the Canadian competition. With the title, he earns the right to compete in the Pre-World Championships in 2016 for the Canadians and possibly the World Championships in Brazil in 2017. Ross Hunter of Calgary was the 2nd place finish for Canada and followed by John Theoret of Prince Albert. Since Hunter and Theoret both won the title in the past (2010 and 2014 respectively) they were happy to see Borradaile win and represent the Canadian pride well.
Hang gliding and other air sports competitions continue across the world, so check back here to get the latest information on skydiving, paragliding, and hang gliding events.