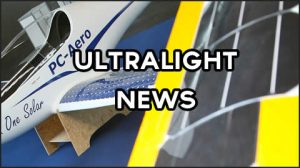 It's been quite the month in ultralight aircraft news, starting with the first electric aircraft to cross the English Channel, in fact two crews are claiming the honor. On Friday July 10, the Airbus Group announced that its E-Fan technology demonstrator had flown from Lydd, Kent to Calais.
When the announcement was made, confusion quickly ensued as it was discovered that French Pilot Hugues Duval had flown from Dover to Calais, 12 hours earlier in a Cri-Cri electric plane. The debate may get settled by a technicality, in that Mr. Duval's plane was towed into the air by a conventional plane, a fact which may deprive him of the record for his 17 minute flight across the English Channel.
As if that wasn't enough excitement also this month, the Solar Impulse 2 set the record for the longest distance and duration flight for solar aviation. The single pilot aircraft took off from Nagoya, Japan on Sunday June 28th. The plane was flown by pilot and Solar Impulse co-founder André Borschberg. The craft stayed in the air for three days and nights without using any fuel capturing the world records and finally landing in Honolulu.
Last but not least, the Elektra One Solar has become the first solar-electric plane to cross the Alps in both directions. The single-person ultralight aircraft took off from the German municipality of Unterwössen on June 25th. It crossed over the Grossglockner, the highest mountain in Austria and landed in the Austrian town of Lienz. The plane then flew back across the mountain range on July 2nd landing in the Austrian town of Zell am See in just under two hours.
With the year only half over, it begs a person to wonder what other exciting news is in store for ultralight aircraft.