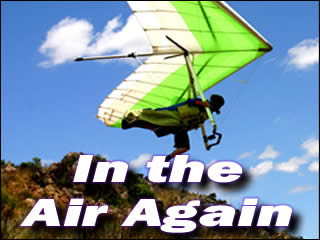 An Australian hang glider pilot who has been banned from flying for the past 5 years has recently taken to the skies after completing his license suspension period order by the Civil Aviation Authority (CAA) of Australia.
John Smith of Queenstown first ran into trouble in 2003 when the CAA revoked his "recreational pilot status" for dive bombing a paraglider pilot in the landing zone (see video below).
Smith was caught flying during his suspension in New Zealand in 2006 when a local police sting operation photographed him flying commercial tandem flights. The police were tipped off by a competitor who also flew commercial tandem flights. Smith unsuccessfully fought four counts of operating without proper authorization and was fined $6000 plus $3000 court costs.
As part of his agreement to have his recreational pilot status restored, Smith apologized for his actions on the New Zealand Hang Gliding and Paragliding Association website. During his probationary period he can not have any complaints against him upheld for the next two years or his license will be suspended for another five years. Full Terms and Agreement are Here.
Smith had his flying status revoked for divebombing a paraglider pilot as shown in this video: