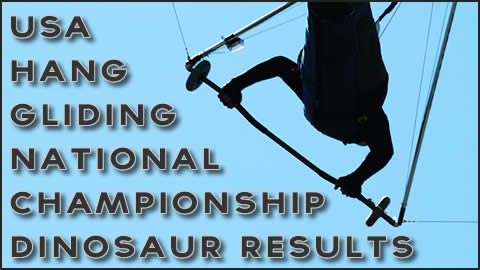 Predictions for seven days of good flying at the Dinosaur National hang gliding competition (USA) in Colorado proved untrue. Gale force winds, rain, thunderstorms and potential hail forced cancellation of four of the seven days of competition. Pilots were able to complete only three of the four scheduled tasks of the open competition. Finals saw Zac Majors taking first place, Glen McFarlane in second and Cristian Ciech of Italy as third.
•August 30: Day one of the competition appeared to forecast the rest of the week. Winds and rain forced the cancellation of the tasks for the day.
•August 31: Day two set a Race to Goal task of 98.7 km that Ciech completed ahead of the others with his Icaro Laminar gear. Both using Wills Wing T2C 144s, Majors followed with McFarlane third.
•September 1: On day three, McFarlane completed the task of 126 km first, followed by Rudy Gores, with Majors not far behind.
•September 2: Wednesday proved the last day of competition for this venue with a task of 115.7 km. Majors led, followed by McFarlane and Ceich.
•For the final results, Majors accumulated 1962 points, McFarland 1947 points and Ciech 1903 points.
Dinosaur's competition organizers hoped to bring world-class competition back to this famous flying site in Colorado, known for its great thermals and XC potential. Unfortunately, competitors filled only 31 of the 150 slots, with just seven countries represented. Some discussion reports appear to believe that the low prize amounts offered failed to draw the applicants hoped for. Others, familiar with the Dinosaur location, doubted the schedule timing would prove good for weather.
The event was sanctioned by USHPA and does count toward the U.S. National Championship as well as the FAI-CIVL competition. The next sanctioned hang gliding event scheduled starts 9/13 at the Santa Cruz Flats Race.
Full results can be found here.