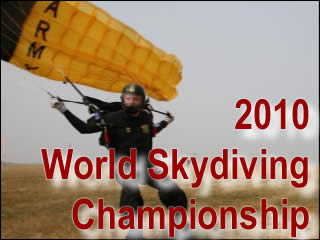 Skydiving specialists from around the globe gathered at the 2010 World Skydiving Championship in Menzelinsk, Russia from August 1st through the 5th to engage in competition for the events of Formation Skydiving and Canopy Formations.
The continuation of the World Skydiving Championship is expected to take place next week between August 10-15 in Kolumn, Russia.
The USA team competitors did very well with 3 Gold Medals, 2 Bronze Medals, and 2 Silver medals.
The USA teams dominated the field in Canopy Formation Parachuting with with Gold Medals in the 2-way and 4-way sequential. Overall, the USA teams did well finishing in 2nd 4-way Open, 3rd in 4-way Female, 2nd in 8-way Open (US Army Golden Knights), 2nd in Vertical Formation, 3rd in Freestyle, 1st in Freefly, and 3rd in Freefly.
More information on the Formation Skydiving and Canopy Formations events can be found here.
Below is the USA Silver Medalist team in Vertical Formation.
Here is the video of the USA Gold Medal team in Freefly.