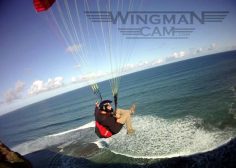 Nothing enhances the thrill of a flight outing quite like recording yourself on video camera. What better way to share your adventures with the rest of the world? Filming one's own self is difficult for paragliding and skydiving enthusiast unless you have a buddy flying in a perilously close formation, Blue Angels style.
For those pilots seeking a more cinematic self-portrait touch to their in-flight films, the WingmanCam may be the ideal accessory.
The WingmanCam is designed and manufactured by father and son team of Peter and Tim James of Victoria, Australia. Peter is a retired Boeing 777 captain. Tim is a commercial airline pilot as well as a jump pilot, skydiver, paraglider and speedwing pilot. Tim also wrote the book "The Basic Speed Flying Reference Guide".
According to Peter, the primary goal was to create an exceptional video platform that would not be a hazard to fly with. For this reason, the WingmanCam comes with a weak link.  The torpedo-like shape aims to offer a unique perspective by trailing behind a parachute on a custom suspension line, flying alongside the user. The camera angle is designed to capture footage of the pilot, rather than just his or her perspective. Made out of carbon fiber, the WingmanCam is light weight and almost indestructible. It comes ready to fly out of the box.
So, does it work? Chris Santacroce, of the Red Bull Airforce and Super Fly, Inc., certainly thinks so–he's been using the product since its debut in 2011, and "can't say enough good things" about it. The official videos showcasing the WingmanCam's work are certainly impressive as well!
The WingmanCam can be ordered online by itself for $189-249 AUD (approx $198-$261 USD) and includes shipping anywhere in the world. Specific models are available for GoPro, Drift, and Contour cameras.
Additional Videos
Red Bull Airforces's Jeff Provenzano Sky Diving with WingmanCam.
Powered Paraglider.
http://www.youtube.com/watch?v=AKgEh8omCj8&feature=youtu.be