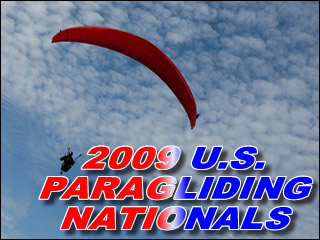 The 2009 United States Paragliding Nationals begins on Monday in Dunlap, California. Dunlap is a small community located about 40 miles east of Fresno and 20 miles west of the Sequoia National Park
The U.S. Paragaliding Nationals begins on Monday April 27th and will last until Sunday, May 3rd.
This year's format is different than recent competitions in that the event champion will be decided from two different competitions at two different locations. The event in Dunlap is the first of two events with the second event being held in Salt Lake City, Utah in August.
Both events consist of tasks with race to goal and turn points. After all tasks have been completed in both locations with a possible 13 total tasks, the pilot will be able to drop one task in four from being scored in the overall total. This will give the pilots the opportunity to exclude the bad days that most pilots have.
Winners:
Open: Brad Gunniscio, Eric Reed, Rob Sporrer
Serial: Jon Van Duzer, Amir Izadi, Jon Hunt
Sports: Tim O'Neill, Darius Lukosevicus, Stephen Maher
Women: Meredyth Malocsay, Magali LeLonde-Legault, Pamela Nichols
DAY 1 – TASK 1 , Monday, April 27th – 2009
DAY 2 – TASK 2, Tuesday, April 28th – 2009
DAY 3 – TASK 3, Wednesday, April 29th – 2009
DAY 4 – TASK 4, Thursday, April 30th – 2009
DAY 5 – TASK 5, Friday, May 1st – 2009
Cancelled on course for Rain
DAY 6 – TASK 5, Saturday, May 2nd – 2009
Cummulative Results
Open Results  |  Serial Results  |  Sport Results  |  Women's Results
If you have information, results, photos, or videos that you would share, please contact us.