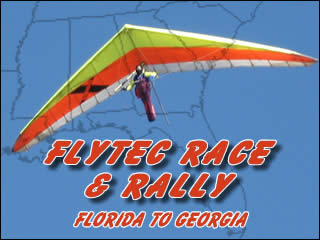 What if you were to take a small group of some of the best hang glider pilots in the world, give them a different airstrip to launch from each day, tell them that there is better steak and beer in the next LZ, combine all of this into a competition and what do you get? The Flytec Race and Rally of course!
The inaugural event of the Flytec Race and Rally took place from May 3-9, 2009. The original seven day, seven task route was to fly from Quest Air in Groveland, Florida to Lookout Mountain Flight Park in northwest Georgia. While these pilot's were looking forward to completing the task at hand, mother nature did not wish to cooperate. Inclement weather, tornado warnings, and high winds caused a change in the original route. On day five, with bad weather forecasted for the remaining tasks, the group packed up from Americas, Georgia and headed back to Quest Air to finish the last two days of the event.
While this format of hang gliding competition is somewhat new to the pilots who typically fly only in the USA, races of this type started popping up back in 2004 in South America. The race and rally format has typically been well accepted amongst the pilots who enjoy getting back to the basic of cross country flying in its purest form.
 Results:
Class 1, Flex Wing
# Pilot Team Glider Total
1. Glen Volk USA Moyes Litespeed RS 4 4990.14
2. Zac Majors USA Wills Wing T2C 144 4982.40
3. Jeff O'Brien USA Wills Wing T2C 144 4778.35
4. Kevin Carter USA Will Wing T2 154 4554.75
5. Jonny Durand AUS Moyes Litespeed RS 3.5 4322
6. Jeff Shapiro USA Wills Wing T2C 144 4124.50
7. Carl Wallbank GBR Moyes Litespeed RS 3.5 4053.64
8. Dustin Martin USA Wills Wing T2C 144 4024.24
9. Tom Lanning USA Wills Wing T2C 144 3705.37
10. Ben Dunn CAN Moyes Litespeed RS 3.5 3321.38
11. Eduardo Oliveira BRA WW T2 3277.38
12. Konrad Heilman BRA Moyes Litespeed RS 3.5 3197.09
13. Pete Lehmann USA Wills Wing T2 154 3159.15
14. Glauco Pinto BRA Wills Wing T2C 144 3011.71
15. Patrick Kruse USA Wills Wing T2C 144 2668.45
16. Davis Straub USA Wills Wing T2C – 144 2638.92
17. Jack Simmons USA Wills Wing T2C 144 2633.06
18. Mike Glennon COL Moyes Litespeed S 5 2577.50
19. Lucas Ridley USA Moyes Litespeed 3 S 2572.64
20. Rich Cizauskas USA Aeros Combat L 2385.70
21. Eric Donaldson USA Wills Wing T2 144 2320.27
22. Chico Santos BRA Moyes Litespeed S 2246.09
23. Alex Cuddy MOyes Litespeed RS 4 2126.46
24. Charles Allen USA Icaro Z8 1987.19
25. Mark Frutiger CAN Wills Wing T2C 144 1458.72
26. Linda Salamone USA Moyes Litespeed 3 1012.93
27. Evgeniya Laritskaya RUS Aeros Combat L 12 960.30
28. Marcelo Andrei Rocha BRA Aeros Combat L 387.50
29. Raul GUERRA ECU Wills Wing T2 144 66.73
Class 5, Rigid Wing
1. Oliver Gregory USA 4905
2. Campbell Bowen 4582
3. James Stinnett USA 3462
Pilot Spotlight:
Class 5 Winner: Oliver Gregory started hang gliding back in 1975. He flew for almost 10 years before entering medical school. After a 15 year break from hang gliding he took up flying again in 1999. Dr Gregory has a hang 4 rating is currently ranked #96 in the FAI hang gliding rankings, and sure to climb a few notches after this event.  When not flying, Dr Oliver Gregory practices as a general psychiatrist in Chattanooga, Tennessee.
Meet the Rally Pilots