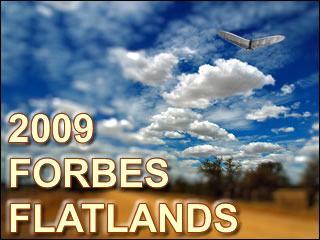 The Forbes Flatlands Hang Gliding Championship was held in Forbes, Australia between January 3-11. Tragically, the event suffered another fatal accident on the first day of the competition.
The six task event was won by Blay Olmos of Spain, who only started competing last year. Blay defeated the defending Forbes champion, Jon Durand, by just three points. The current world champion, Attila Bertok, finished in third.
The event was sadly paused on the first day by a fatal accident of one of New Zealand's competition pilots. Stephen Elliott of Auckland crashed on tow and suffered spinal and facial injuries. While waiting for the paramedics Stephen was joking with his friends before losing consciousness. He failed to recover from a drug induced coma a few days later. This was the second fatality in the last three years for this competition.
The top finish by an American pilot was verteran competition pilot Davis Straub out of Pensacola, Florida who finished in the 10th position, six places better than his 2008 finish in the Flatlands.
Event organizers are hoping to expand the event by hosting the 2010 World Hang Gliding Championships. Italy, Turkey, and Germany are also submitting bids in February to host the championship in early 2011. Forbes last held the world championship back in 1996.
Visit the Moyes web site for complete 2009 Forbes Flatlands Competition results.

Forbes Flatlands Hang Gliding Championships 2009 from Nick Purcell on Vimeo.