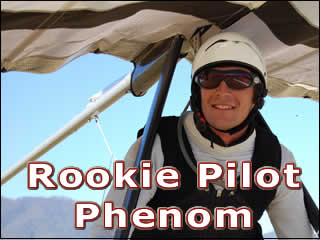 Every decade or so, a young pilot comes along and shows the veteran competition pilots what they've been doing wrong. This decade is no different as another rookie pilot has upstaged the tried and tested pilots in the most recent round of Australian hang gliding competitions.
Before a young pilot took 3rd in the 2008 Canungra Classic in Australia, almost nobody in the international hang gliding community had heard of Blay Olmos from Spain. After the Classic  he finished 3rd in the Gulgong Classic, and most recently he took 1st place in the Forbes Hang Gliding Competition. Blay was only 19 at the time of the Forbes Championship, which ties him with Kraig Coomber as being the youngest to win here (Kraig Coomber won in 1996 at age 19) .
Being the son of European hang gliding record holder, it wasn't hard for Blay to catch the fever and get into the sport. His father, Blay Olmos SR.,  set the European record in 1993 by flying 200 miles, the first 200 mile flight in Europe. He had his first solo flight when he was 15 years old and remembers practicing his flying techniques everyday after school. By the time he was 16, Blay had already had his first 100 mile flight.
Currently when Blay is not hang gliding or wind surfing he is working for the Moyes manufacturing plant assisting in the production of hang gliders. With his recent run in Australia's major competitions, he earned a paid spot on the exclusive Team Moyes after gaining a world ranking of #10.
Something tells us that this pilot has only just begun. With his young age and talent it is expected that this pilot might even make a world champion one day. We will be keeping our eye on him and Team Moyes.