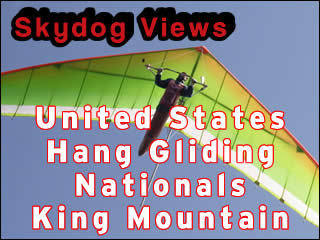 Skydog Blog – editorial and opinion
With a secret veil surrounding the first half of the United States Nationals at King Mountain, the competition was held between July 20th and July 26th. Unless you were there, it was a mystery who won this competition until more than a week after the competition had ended. Results of the competition were withheld for some unknown reason and individual tasks results are still not available on the official website.
I find it difficult to believe that the premiere hang gliding event, the Nationals, held the rest of the flying world in a dark cloud for such a long period of time. It appears to me that the organizers of this events are somewhat in a whimsical bubble about how these things should be operated. Isn't it in their best interest to promote the sport by providing a transparent medium of results? You can find the belated results here at the official Fly King Mountain website.
We cant really blame the USHPA for too much of this but I will… I believe that it is up to the United States Hang Gliding and Paragliding association to see that these events have means and method to properly host a sanctioned event including the prompt return of daily tasks. The UHGPA needs to step up to the launch pad and make sure these events are properly recorded and reported in a timely uniform manner.
We can't really blame the official website too much but I will… It appears the site is being ran by a local flying club and  they are doing what they have always done. When they have a local competition, everybody who cares about the results was flying in the competition so results are posted in a leisurely manner. But come on guys, this is the United States Hang Gliding Nationals with a much larger interested audience. You guys need to get your head out of the potato sack and see the whole farm here.
The second half of the United States Hang Gliding Nationals is coming up soon in Big Springs Texas and we will hopefully be reporting prompt results from that event (knock on wood).