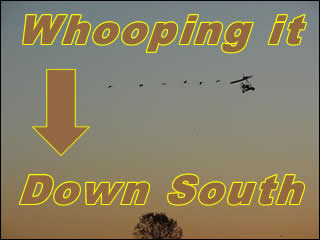 As an ultralight sits on a makeshift runway revving its engine in the early morning frost, support crew readies the migrating whooping cranes for takeoff. The gates of the holding pen are opened as the aircraft begins to take off. The 14 cranes waddle out of the temporary home and chase the ultralight as it becomes airborne.
This is a scene that would be repeated over the next 98 days as the team of four ultralights and pilots along with rolling support crew show the endangered whooping cranes how to migrate to the south for the winter. The hope is that next year the whooping cranes will fly by themselves to their winter home.
The birds originate from Necedah National Wildlife Refuge in Wisconsin and flew some 1285 miles to St. Marks National Wildlife Refuge nesting ground in Florida. The refuge offers 70,000 acres of protected land along with 60 miles of sea coast along the Gulf. Upon arrival, the population was split in two with seven of the birds  escorted by ultralight to Chassahowitzka National Wildlife Refuge.
Some days the birds would make good distances of over 100 miles while other days were short flights of less than 10 miles. Other days were no-fly days for the whooping cranes due to high winds or inclement weather. Pilots would alternate days on who would lead the birds and who would play chase. While in flight, the support crew made its way to the landing zone and set up temporary shelter for the birds when they arrived.
This Operation Migration project began back in 2001 and has continues every year since then.  With an estimated annual budget of $1.6 million, the project is funded mostly by private sources. The cost of this trip is estimated at $208 per mile or around $267,280 for the entire trip.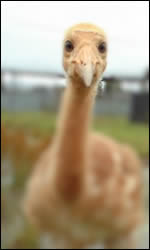 There are only about 500 whooping cranes living today with 350 of these birds being wild. During the 1940's the whooping crane population was reduced to a mere 15 birds. Since then the population has increased steadily based largely upon conservation efforts such as the Operation Migration project.
In February of 2007 a storm all but erased the flying class of 2006 at Chassahowitzka National Wildlife Refuge. Seventeen of eighteen cranes were killed during that storm. In an attempt to avoid the likelihood of another storm devastating the population again, the 2008 group was split into two groups.
If you would like to support this cause or just learn more about this project, please visit the Operation Migration website for more information.