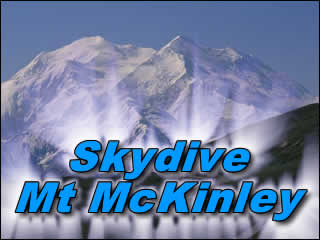 Ever feel the need for a high altitude jump from 22,000 feet? If so then this story might be what you've been looking for, that is, if you have deep pockets.
Between June 20-25, 2009, a group of elite skydivers will jump from 22,000 feet at the base of Mt McKinley, the tallest mountain in North America, with the objective of landing their parachute on moving glacier almost three miles below McKinley's summit of 20,320 feet. If you think you can grab your chute and go jump on the plane, think again. All jumps must be performed in tandem with a certified high altitude skdiver. These jump masters are have former military experience and are one of the few certified to jump from 28,000 or higher. For $25,000 you too can join this group limited to only 25 guest. Costs include 6 days and five nights at an Alaskan lodge with a view of Mt McKinley.
The event planners, Incredible Adventures, is giving the tandem jumper the most viewing experience of Mt McKinley by opening the chute at a very high altitude. The jumper will be educated on how to use the wrist camera to take photos of the scenery during the descent. Visit Incredible Adventure's website for more information on joining the jump.