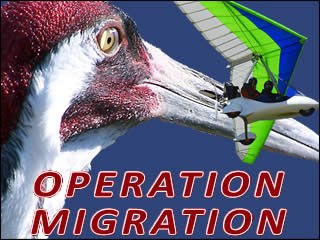 It's that time of year again when a siege of cranes and a gang of ultralight pilots take to the air for their 1,300 mile trip. The graduating class this year consists of 21 whooping cranes that will fly behind the ultralight aircraft from Wisconsin to Florida. For this first time ever, there will be a CraneCam mounted on the ultralight to provide live video feeds from take off to touchdown.
Operation Migration consists of a group of pilots, ground support, and voluntary contributors dedicated to increasing the population of cranes and geese. Since 1988 Bill Lishman has been spearheading the effort to lead groups of birds to warmer climates behind an ultralight aircraft. In 2001 Operation Migration was formed to provide an organization to help solicit funds for the migration. Without donations it would be difficult to cover the cost of over $250,000 needed to deliver the birds from Wisconsin to Florida.
The instinct of migration comes naturally for the whooping crane, the path they migrate is learned. After the birds fly the course behind the ultralight, they form a mental map of their path. In the following years, the cranes will repeat the same path every year without the assistance of their human caretakers. The group is careful to contact landowners ahead of time to get permission to use their property for the migration path. From Wisconsin to Florida, there are numerous volunteer land owners willing to give the birds refuge during their annual trip. The migratory path starts in Wisconsin and then flies through, Illinois, Kentucky, Tennessee, Alabama, Georgia, and then ends in Florida.
You can follow the progress of the pilots and cranes as they head south by visiting their daily field journal.
For more information about donating please visit the Operation Migration website.
You can view the live video feed from the Ultralight Trike here.
Please note that this video feed will only be active when they are flying.