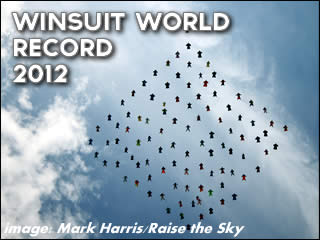 Last Saturday, 100 skydivers set a new Guinness skydiving world record for wingsuit formation with their 13,000 foot wingsuit dive. They traveled from 21 different countries to form a diamond formation in the desert above Perris Valley in California. Five planes were needed for the coordinated drop.
With three days of training camp the 100 skydivers would make five attempts in four days before forming the record setting diamond on the seventh day at Perris Vally Skydiving in southern California. The world record was certified by two judges before submitting to the Guinness Book of World Records.
The wingsuits wore by the skydivers are designed to increase the surface area of the body giving a significant lift increase. This lift allowed the sky divers to cruise for two miles horizontally while reaching speeds up to 80 mph.
Other wingsuit Guinness World Records have been set this year, including one that simultaneously broke four other Guinness records, but this is the first one to involve such an elaborate formation with 100 divers.
The non-profit organization, Raise The Sky partially organized the dive. This organization generates awareness for their "Flying Dream Project" which focuses on skydivers talking to school children about teamwork, goal-setting, achievement, facing fears, while relating these concepts to human flight.