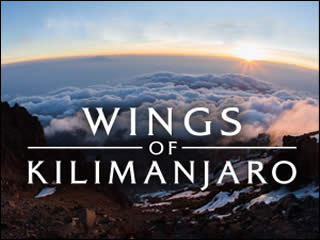 It is a spiritual journey for some, a personal challenge for all. Created by the violence of volcanic eruption it dominates the landscape of East Africa. It beckons to those adventurous souls who would test their endurance and perseverance. Soaring an imposing 19,340 feet above the surrounding flatlands is the summit of the highest peak in the African continent earning it the nickname "The Roof of Africa", it is Mount Kilimanjaro.
This one of the few places on earth that is massive and diverse enough to host every ecological life zone from tropical jungles to the alpine zone and the climate challenges of each. At 12,000 feet (3,600 m) there are roughly 40% fewer oxygen molecules in the atmosphere as compared to sea level making the environment perfect for altitude sickness. Many underestimate the challenge and seriousness of the climb because no special climbing equipment is necessary to reach the 19,340 feet summit. However, each year tens of thousands attempt the summit but only about 70% are successful. Those who are successful and so inclined can only fantasize about hang-gliding or paragliding down. The Government of Tanzania has strictly forbidden such activities, until now.
In February of 2013 two-hundred adventurous souls will challenge "Kili" in way never done before. The global band of adventurers will climb to Uhuru, the undisputed summit, and paraglide off the "Roof of Africa". This is a one-time event that the Tanzania government has made special permissions to grant.
The group of pilots and climbers is called "Wings of Kilimanjaro" and hopes to raise over a million dollars for charity and raise global awareness for the financial funding needs for education, health and environmental aid in Tanzania. Wings of Kilimanjaro are working with two local based charities, Plant with Purpose and One Foundation.
Plant with Purpose works in rural areas where deforestation has caused poverty. They use a holistic approach of environmental restoration, economic empowerment and spiritual renewal to break the cycle of poverty and restore lives.
One Foundation is a UK based charity that addresses vital issues such as clean water, HIV, sanitation and nutrition. Tanzania is one of the poorest countries in the world and has over 1 million orphans due to the HIV/AIDS pandemic. Wings of Kilimanjaro will be working with One Foundation to identify significant education programs in the Kilimanjaro area for funding.
https://www.youtube.com/watch?v=lUFb4KWpdYA