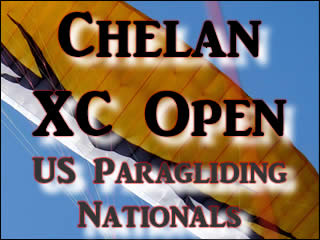 The first half of the US Nationals Paragliding Championship,  The Chelan XC Open, was held from July 10th to July 15 at the Chelan Butte in Washington state.
Chelan Butte is well known for its majestic mountain launch with lots of flatlands below. It also known for serious turbulence that can cause the occasional pilot to pull their reserve chutes.
During the competition one pilot hit turbulence on landing causing his glider to fold at 100 AGL. He was transported to the local hospital in serious conditions but was upgraded shortly to satisfactory condition
Results:
Final Overall Open Class Results
Final Overall Serial Class Results
Final Overall Women's Results
More info on the Chelan XC Open
Photo Gallery of the Competition
The second half of the US Paragliding Nationals is expected to take place at Bald Mtn, Sun Valley, Idaho between August 28 – September 5, 2010.