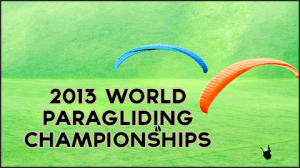 Paragliders from all over the world gathered in Sopot, Bulgaria between July 13-26 for the 2013 World Paragliding Championship.  This beautiful yet challenging sport has drawn competitors from all over the world.
This year, Jeremie Lager of France took away the title of winner in the men's category, and Klaudia Bulgakow of Poland led the women's division.  As a team, France won with Lager assisted by teammates Charles Cazaux and Seiko Fukuoka.  Other top results include:
Charles Cazaux, France, 2nd place Men's division
Davide Cassetta, Italy, 3rd place Men's division
Nicole Fedele, Italy, 2nd place Women's division
Seiko Fukoka, France, 3rd place Women's division
The men's division was very close, with only a 3% differential in scores between the top 3 competitors.  The team competition was close as well, with the following results
France
Italy
Venezuela
Venezuela was able to knock out a very competitive Colombia on the final task.
The competition consisted of 5 tasks which were scored.  The weather on the first task was overcast with slow thermals, but as the days went on the weather improved and brought with it increased speed.  Competitors had to show great skill and judgment to score well with the given weather conditions.
Two pieces of equipment rose above the rest, with the Icepeak 6s and Ozone Enzos being used by the top 12 places.  A slight controversy arose with allegations that Icepeak users cut accelerator webbing to gain speed, but these concerns were put to rest.   Overall, the 2013 Paragliding World Championships were a great success, and both fans and competitors look forward to next year.
Results for the competition.