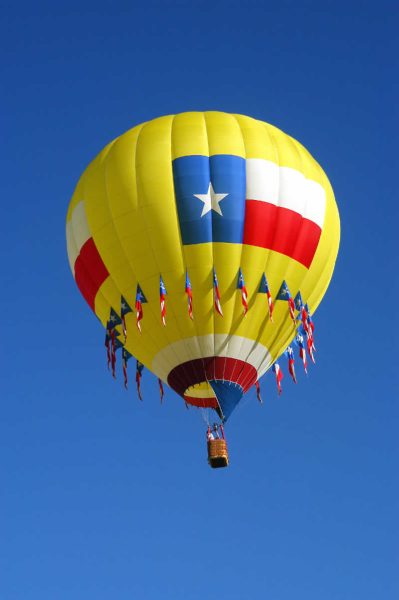 Hot air balloons, team roping competitions, chicken-fried steak and wine. Those are just some of the attractions planned for the Lamesa, Texas, Crossroads Balloon Rally and Chicken-Fried Steak Festival.
Organizers are expecting between 20 and 40 balloonists for the second annual event which will be held April 26-28 in this West Texas community located about 60 miles south of Lubbock.
The weekend begins with, of course, a chicken-fried steak dinner on Friday night.
Balloon flights are scheduled for sunrise on Saturday and Sunday as pilots soar over the eastern edge of the Llano Estacado on the southern High Plains.
Saturday evening will feature a balloon Firefest with the local high school nbadn providing musical entertainment.
The team roping event will be held on Saturday, beginning at 10 a.m. A wine tasting is scheduled from noon until 4 p.m.
Then there will be the competitive chicken-fried steak event which starts at 11 a.m. with the winners being announced around 3 p.m.
Through out the weekend a variety of craft vendors will have booths open and musical entertainment will be offered, including a Friday show by Grupo Vida (The Electric Cowboys), a Saturday performance by Mike Pritchard of Lubbock, and Saturday evening show by Jake Kellan.
There will also be a classic car show on Saturday and a children's area, featuring games, rides, and other fun activities.
On Sunday morning, a cowboy church event will wrap up the weekends activities.
The festival is being organized by the City of Lamesa (www.ci.lamesa.tx.us) and the Lamesa Area Chamber of commerce (www.growlamesa.com).