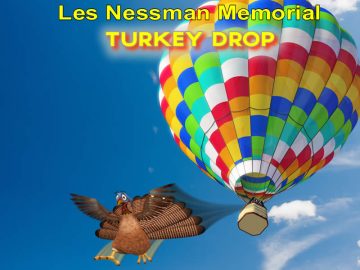 Hot air balloonists will gather in east central Illinois this holiday weekend for one of the really unique events in the sport.
The 15th annual Les Nessman Memorial Turkey Drop, sponsored by the Danville (Ill.) Balloon Club will be held on Thanksgiving Day.
The event, a spoof born from a tribute to an episode of a popular television sit-com series, will see participants attempting to hit a target with rubber birds.
It was 34 years ago when "WKRP in Cincinnati" aired the now legendary holiday episode in which the station's farm reporter/newsman Les Nessman reports live on a promotional stunt featuring a turkey drop in a shopping center parking lot. Those who've seen the show will remember that the resulting chaos from the ill-fated idea of dropping live turkeys from a helicopter in that episode made for a really hilarious show. The last line of the show by the station manager was "As God is my witness, I thought turkeys could fly."
In Danville, the balloonists will not be dropping anything live. They will not even be dropping turkeys. The birds will be rubber chickens (one organizer explains it by saying rubber chickens are easier to find).
The contestants will also go to extreme efforts to costume and decorate their birds.
The pilots and crews will take off at 6:45 a.m. on Thanksgiving morning and forecasts for good weather have planners excited. Poor flying conditions have affected the past four turkey drops.
Organizers say the event, which began as a fun event for area hot air balloon enthusiasts, has exceeded their expectations. It now draws pilots from other parts of the country and participants use the event as a skills practice session.
For more information on this event, contact the Balloon Association of Illinois
Clips from "WKRP in Cincinnati" Turkey Drop Episode
We wish all our readers a Happy and Safe Thanksgiving Holiday!