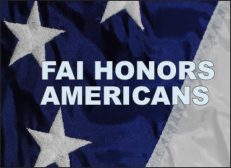 In recent skydiving news, the 109th FAI Conference held last month in Rotterdam, Amsterdam, honored two American sportsmen for their accomplishments.
You just can't keep a good man down.
Jarrett Martin received the Breitling Youngster Award for "his active participation in national and international parachuting competitions which set a new standard for what young athletes with physical disabilities can do in air sports." www.fai.org/civl-news This award is given to outstanding athletes under 26.
The 24-year-old Martin sustained severe injuries while paragliding in 2009.  Determined to fight back, the 18-year-old set a goal to return to air sports.  In just six months  he was back in the air, parachuting in his wheelchair.  In 2011, he competed for the US National Parachuting Championship.  In 2014, as a member of the US Parachute team, he competed in the FAI World Championship, the only skydiver to ever compete in a wheelchair.  He also participated in the 2014 International Parachute Championship and the 2015 Dolomite Cup held in Italy.
Born in Seattle, Washington, Martin stated he is a third generation skydiver.  He called the 2013 Dubai Championship his greatest moment. That isn't surprising, since he now works in Dubai as an air sport promoter.  He loves being able to skydive anytime he wants to!
He's out of this world!
Engineer and sportsman Alan Eustace received the Breitling Milestone Trophy for his "development of a self-contained flight system for manned stratospheric exploration and advancing space crew egress systems, setting three FAI absolute world records in the process."
Eustace, who's made many stratosphere jumps, has long wanted something lighter-weight and easier to use for these jumps, so he invented it.  Testing it out he broke several records including one for altitude and another for speed of fall.  He fell an incredible 41,422 meters at a rate up to 1,320 km/h!  His invention offers many benefits to all those involved in astronautic and aeronautic work.
Now that he has made life easier and safer for many others, what is Eustace up to?  He's learning the art and sport of paragliding and hang gliding!