Miles Daisher is no stranger to the BASE jumping world, as a matter of fact, he is somewhat of a legend amongst the BASE jumping community. He holds the world record for the most lifetime BASE jumps (over 4500) and the most BASE jumps in a year (737 jumps). Living within one mile of the world's most iconic BASE jump exit point, the Perrine Bridge has helped Miles obtain and preserve his record status. The Perrine Bridge is one of the few locations where anyone can BASE jump anytime without a permit.
While these world records appear impressive on Miles' professional BASE jumping resume, there is one record that has slipped away. Back in 2005, Miles set the bar with 56 human powered BASE jumps in a 24 hour period at Idaho's famed Perrine Bridge. The record endured for 11 years until Danny Weiland raised the mark to 61 BASE jumps at the same location in 2016. This unofficial world record requires the BASE jumper to not use a motorized vehicle to get from the landing zone to the launch pad.
At 10:35 am on June 21st, Miles made the first of his BASE jumps from the Perrine Bridge over the Snake River to try to recapture the record. After each landing, he ascended up to the blacktop where a bicycle was standing by. He pedaled back to the center of the bridge where he embraced freshly packed gear and duplicated the course over and over again.
Behind the scenes his support crews hustled back and forth while inspecting his used parachutes, rigging parachute containers, and delivering them back to the top for use again.
Miles continued throughout the day and into the spotlit night. His number of night jumps was minimized to 20 BASE jumps by utilizing the Summer Solstice.
At 9:35 am the next morning he executed his 62nd BASE jump, reclaiming the record he once enjoyed. One might think that breaking the record would be good enough, but Miles went on to make one more jump for a total of 63.
Each jump included a grueling 486 vertical feet climb from the landing zone to the bridge deck. That's equivalent to climbing 48 flights of stairs for each BASE jump. Overall, he climbed a total of 30,618 feet, that's over 3,000 flights of stairs. To put that in perspective, Mount Everest peaks at 29,029 feet.
Congratulations to Miles Daisher and the Red Bull Air Force Support Team!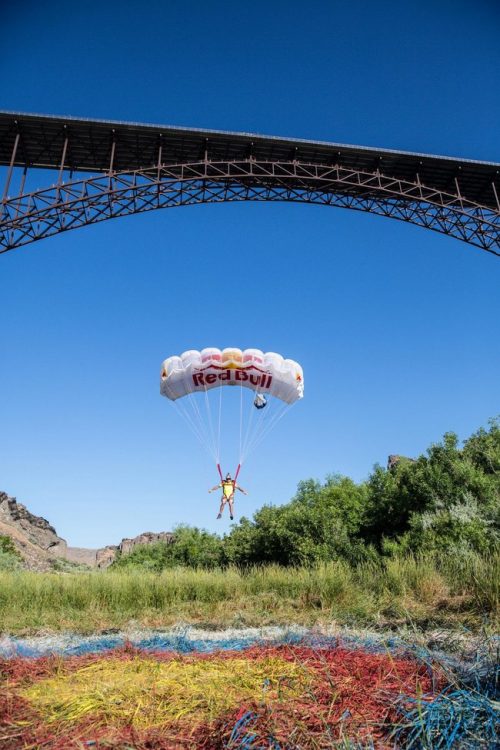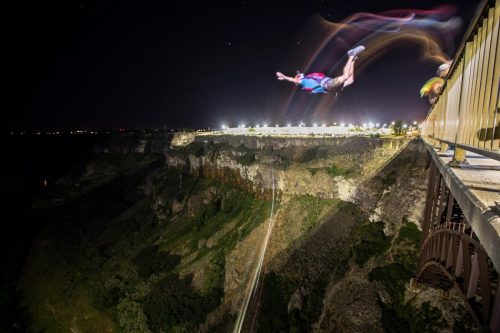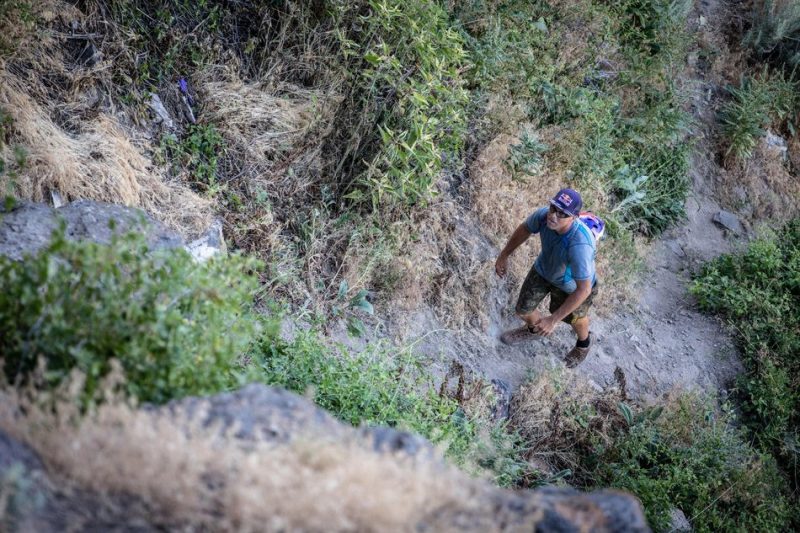 You can keep track of Miles' adventures by visiting his homepage or following him on Facebook.