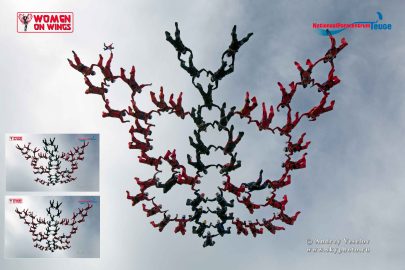 56 skydivers from the group EuroChicks now officially hold the Women's World Sequential Record in skydiving. The 3 formation 56 point jump was part of a project called "Women on Wings" or "WOW" and took place over Teuge, the Netherlands. EuroChicks bring together the talents of female European skydivers with a goal of growing the sport and getting more women involved. Coordinators Marloes Swarthoff and Henny Wiggers plan to continue the "Women on Wings" project and break more world records with large female groups. It formed in 2016 with the additional goal was 100% safety.
The jump took place September 3, 2016 and was ratified by the FAI on July 7, 2017, making the Women's World Record 3-point 56-way now official. The FAI can take up to a year to ratify records, while the USPA ratification can take just weeks. The pre-existing record was a 3-point 28-way.
The team chose a symbol of beauty and power as their first point, the shape of a butterfly. Two well-known big-way female skydivers, Lise Nansen and Kate Cooper-Jansen, ran the Big-way camp to prepare for the jump. The camp was open to everyone with the basic ability to dock on a 12-way with women getting preference for admittance. Team members for the record-breaking jump were hand chosen from the group.
"Women On Wings" hopes to go on to break more European and World Records. Next up is one in 2017, a Women's World Record Big-Way with 120 or more. Eurochicks team members hail from the Ukraine, United Kingdom, Norway, Netherlands, France, Sweden, Denmark, Hungary, Switzerland, Russia, Belgium, Romania, and Finland.