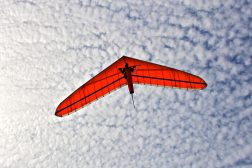 A true tortoise-and-the-hare story, the 21st FAI World Hang Gliding Class 1 Championship proved that consistent performance outranks smaller victories when related to these types of marathon competitions. Petr Benes of the Czech Republic secured the individual win with 7750 points, just surpassing the expected winner, Italy's Alessandro Ploner.
The new world champion had this to say about his victory: "I would like to say thank you to my teammates, who helped me win this title. Thanks also to the members of the organization World Wing Championship, which made a really fantastic event. Thank you very much, I am very happy with the result."
For the teams competitions, Italy earned the title with 23,042 points, breaking ahead of the Czech Republic (22,605) in second and Germany (21,316) in third. The top five also contained the United States (21,310) and Australia (21,097).
"The satisfaction is very great in having one the medal of world champion by teams. It is the fifth time in a row that we Italians have won by national teams. No other country had achieved this feat of five consecutive world champions [sic]. In addition to being very proud of the individual results of [team members] Alessandro Ploner and Christian Ciech, we are also very happy to be the champion team. Next World Cup is in Italy, and we hope to win again," said Filippo Oppici in response to the results.
Brazil has played host to this national championships two years prior to this competition, in 1993 and 2001. It is known among fliers as one of the best places to practice free-flying, as the dry climate of the season and thermal winds can provide flights of fantastic distance and height. However, the climate took a different turn for the 2017 competition with a less thermal climate, taking away the home field advantage for the Brazilians.
142 pilots participated in the event from 29 countries. Launches took place from Formosa, 92 kilometers from the landing points of the Federal Capital. Competition organizers watch weather patterns closely and decide route day-by-day.
For more information and scoring of the event, visit the Official Website of the competition and scoring site (in Portuguese).
Petr Benes of the Czech Republic when he learns he has won!

Team USA at the awards ceremony