A British ultralightlight pilot has made ultralight aircraft news while urging other microlight enthusiasts worldwide get involved in an effort to help save an endangered species.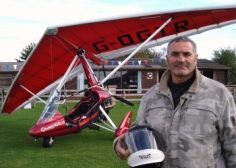 Pilot Frank Spiniello recently traveled to South Africa and saw many stories about the endangered rhinoceros being illegally poached there. Spiniello was very troubled to learn that there is a large scale operation there that slaughters rhinos for their horns. Newspaper reports there reported that at least four rhinos were recently killed in a private game reserve.
South African officials now estimate that two rhinos a day are being killed and so far this year, around 460 South African rhinos have been illegally shot for the sole purpose of gathering their horns, which are sold on the black market, primarily in China as an aphrodisiac.
Spiniello is encouraging other microlight pilots to join him and use their flying skills to give aid to the Zululand Wildlife Security Initiative for a month during 2013. There are plans being made now to set up a coordination center that would ensure that locals have enough help with air support to help monitor high threat areas.
Once the forward base is fully operational, volunteer pilots with their own aircrafts will be needed to help with variety of anti-poaching organizations in South Africa throughout the year of 2013.
Spiniello has formed an official organization to help called Special Wildlife Area Trackers, or SWAT. He says that any microlight pilot from anywhere in the world can get involved with the organization and help with a very noble cause., while certainly witnessing some of the most memorable terrain one can ever hope to fly over.
Anyone interested in getting involved or learning more should visit
Image Credits: Frank Spiniello (Used with Permission)