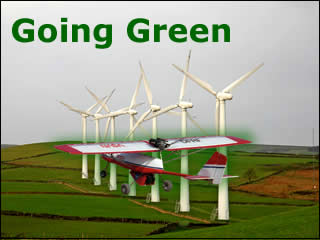 With the technological advances taking place today, its only a matter of time before our 747's are running on green fuels. In fact, the European Union has already required that jet aviation engines be greener by the year 2012. The International Air Transportation Association (IATA) has set the goal of 100% green aircraft with no carbon emission by the year 2050. With so much concern over the quality of our air and environment, its no wonder that the concern has trickled down to the smaller aircraft pilots and those who design/build these aircraft.
In 2007 the ElectraFlyer introduced a battery powered ultralight. This aircraft gained notoriety at the Oshkosh EAA Airventure show where it won the Grand Champion Award as well as the Innovation Award.  The ElectraFlyer is a powered by a lithium-ion polymer battery producing 18 HP and capable of sustaining continuous flight between one and two hours depending upon the size of battery purchased and the aerodynamic efficiency of your wing. The cost for a two hour flight will run about 60 cents while the cost of the trike will run just under 18.4 k which includes the wing.
With awards in hand the company set out to produce an electric powered aircraft, the ElectraFlyer-C. In 2008 the aircraft was exhibited at the EAA AirVenture show in Oshkosh. While actual test results haven't been released at the time of the story, this battery powered aircraft is expected to run for up to an hour at 70 mph with 30 minutes of reserve time. The cost for an hour flight will put you back about 75 cents.
The benefits of this type of aircraft are numerous. First and foremost they are greener than the oil consuming engines which will help you feel you are doing your part to protect the planet. They are much quieter which will make the neighbors happy if your LZ is in a residential area. Without the pistons, the vibrations are reduced dramatically. A newbie pilot in one of these green machines will probably be looking around constantly to check and see if the propeller is still working with the absence of the usual vibration and noise. And finally, maintenance costs are also dramatically reduced with less moving parts.
The battery life span is expected to have 300 to 500 full discharges and over 1000 partial discharges. For an average pilot flying 50 to 100 hours per year, this would put the life expectancy of the battery around 10 years. The current cost of the battery system, which is included in their price, is around $7,500.
Air Sports Net gives two thumbs up to these innovative flying machines and hope that more designer of light ultralights and aircraft might consider going green too!
Visit the Electraflyer web site for more information.