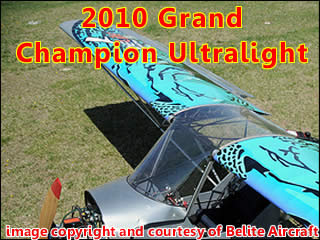 The 2010 SUN 'n FUN International Fly-In & Expo in Lakeland Florida attracts over 150,000 pilots and aviation enthusiasts from all over the USA and more than 80 other countries.
This year, the expo has named the Belite Superlite Aircraft as the 2010 Grand Champion Ultralight. Boasting an aqua-blue and black dragon paint scheme, the Belite was noted by the judges for having featherweight panels.
This Superlite has a short take-off a 100 feet and acclaimed for having superior climb rates. With a weight of only 278 pounds, this aircraft qualifies as FAR Part 103 legal with a parachute allowance.
Read more on the Belite Superlite Aircraft
The Belite Aircraft company makes four models of aircraft with kits starting at $10,000 and ready-to-fly starting at $25,000. Visit the Belite website.