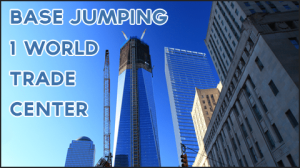 When you think of skydiving, typically you picture wide open spaces, lots of sky above, and uncluttered, open ground below. This week 1 World Trade Center set the scene for an unlikely location in skydiving news.
This week, 4 men were arrested for base jumping off the top of the iconic New York City building. Base jumping is similar to skydiving, except for the fact that you jump from a fixed building rather than a plane.
The actually jump took place last fall, and the 4 men thought they got away with it, until this week when members of the NYPD showed up on their doorsteps. Footage of the jump taken from a helmet camera has gotten a lot of attention on YouTube, and New York City officials want to make sure everyone knows this kind of activity is frowned upon.
The video is captivating, with the actual jump taking place about 2 1/2 minutes in. You almost feel like you're the one making the jump when you're watching a dizzying freefall past the windows of the skyscraper, and then the immediate deceleration when the parachute opens. Then there's the thought that there are so many things that the chute could get caught on during the descent. But before you know it, the jumper is on the ground, in a full-on sprint to get to cover before getting caught.
The jumpers did what they set out to do, and New York City officials will be ramping up security at this building. Evidently a gap in a fence allowed them, as well as others, access to the top of the building that is supposed to be off-limits.
We don't condone jumping in unsafe circumstances, but if you're wondering what it would be like to jump in the middle of downtown Manhattan, check out the video above.