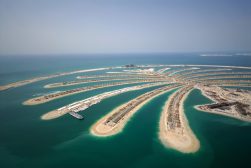 Skydiving offers athletes a unique perspective of the world. Skydivers gain an appreciation for the scenes typically reserved for the birds, but the sport also presents a variety of locales from which to pursue the sport. Skydiving news is certain to be made in Dubai when the United Arab Emirates hosted the second Mondial from November 28 to December 9, 2012.
The Mondial is a huge skydiving event that celebrates the worldwide skydiving community with a competition that will showcase the top skydiving athletes from around the world. The events scheduled for these several days will display some of the world's most competent and talented air sports athletes of all time.
In fact, over 800 participants from as many as 90 countries are expected to compete. The events include formation skydiving, canopy formations, accurate landing, accurate landing, canopy piloting, piloting over water, free-fall flying, free-fall style, and paraskiing.
These days are guaranteed to be even more exciting for all the lucky participants and fans since the competition coincides with the United Arab Emirates' 41st National Day on December 2nd. This day historically attracts many visitors who are eager to partake in all of the area's festivities.
While Dubai may not be one of the first locations you conjure in your skydiving dreams, the region has previously hosted four highly successful International Parachuting Championships. The unparalleled luxury and diverse activities offered at Dubai will ensure a one-of-a-kind experience for all who are so fortunate to personally partake in this competition.
At the 2010 Dubai Parachuting Championship, American pilots took top spots in several of the events including 1st and 2nd in Individual Distance Canopy and 1st in the team 4-way. Five of the top ten positions went to the USA competitors in the overall Canopy Combined.
The 2012 USA competitors are hoping to do as well or better than the 2010 competition in Dubai. Good Luck Team USA!
Team USA Promotional Video