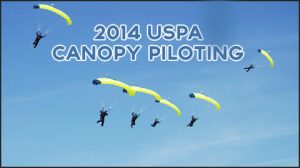 The 2014 USPA National Skydiving Championships of Canopy Piloting was exhilarating, as always. Skydive City, in Zephyrhills, FL, once again hosted the event, which ran May 21-23.
The weather was good overall, but gusty headwinds on the final afternoon, during the zone accuracy rounds, forced out some top competitors. For others, just getting across the pond was a real challenge. This year's competition was particularly fierce, as it determined slots on the U.S. Team for the Fédération Aéronautique Internationale (FAI) World Championships, taking place at Skydive City, November 1-8.
Video of the swooping championship showcases great weather and even greater skills on the course. One competitor wearing Google Glass (or with a camera on his helmet) captures his own jump and experience on the course (starts at 5:04). Competitors exit the plane at about 5000 feet and begin their approach of the course around 1000 feet, at speeds up to 100 mph (and sometimes more).
Winners
Open Class
After a tough competition, Tommy Dellibac won gold for distance, as well as his first overall gold metal. Last year's champ Curt Bartholomew took the gold for accuracy and overall silver. Greg Windmiller captured the overall bronze.
Advanced Class
Katie Hansen made U.S. CP Nationals history as the first woman to capture an overall gold-metal. She also took gold for distance. Brandon Coates won the overall silver, and Rich Servantes took home gold for accuracy and the overall bronze.
Congratulations to the 2014 
U.S. Canopy Piloting Team!
Tommy Dellibac
Nick Batsch
Curt Bartholomew
Greg Windmiller
Jay Sanders
Ryan Brownlow
Gage Galle
Justin Thornton
Air Sports Net shares news, resources and links related to hang gliding, paragliding, powered parachuting, powered paragliding, skydiving and ultralight aircraft. Explore out site to find just about anything to do with air sports.