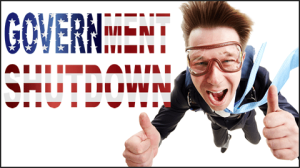 While the recent government shutdown has had negative effects on many of the federal employees, some businesses are looking for ways to help and support the 800,000 people who won't be getting a paycheck until the furlough is over.  One of these companies is making skydiving news by giving these workers the opportunity to take a jump.
Skydive, Hawaii is offering free jumps to federal employees who are finding themselves with too much time on their hands this week.
"They have bills to pay, and they can't afford to do things like this," said Sonny Vaoifi, manager of Skydive Hawaii. "We're going to take as many as we can for as long as our company can bear it."
They reported that 2 US Navy Shipyard workers had already taken advantage of the offer, and planned to return, provided they didn't have to go back to work.
Skydiving companies aren't the only ones offering a little bit of help to furloughed workers.  Hyundai is offering to defer car payments of federal employees with no penalty.  In Alexandria, Virginia, Pork Barrel BBQ is offering free sandwiches each day to government employees, but members of congress are excluded.  Similarly, a trendy restaurant/bookstore in Washington DC is extending happy hour prices for those on furlough.  They are asking congress members to pay double during this time.  Gym memberships and online classes are also being offered to government workers who find themselves with extra free time, but no money to spend.
Thank you to Skydive, Hawaii for supporting these workers who are struggling, due to no fault of their own, during this difficult time.  Perhaps other companies will follow suit and use this as an opportunity to introduce people to air sports.  Those that jump, fly, and glide know that if you do it once, you'll always come back for more.