A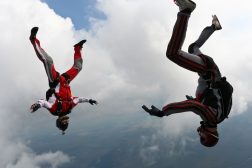 rtistic Expression has moved to the forefront of skydiving news under the auspices of The World Freestyle Federation, and it's set to be showcased at the 2012 World Parachuting Championships in Dubai, United Arab Emirates.  There, USA skydivers are perched to display their innovative freefall positions, and freeflying is expected to be one of the highlights.
Innovator Olav Zipser – known as the Father of Freefly – was the first to try this skydiving strategy, and many others have followed suit, making it a very competitive art form.  As a matter of fact, holding the world record category for biggest head-down freefall is the pinnacle that many teams vie for.
The trick and crux to free-flying is that the body must be controlled while contorting it into myriad positions during the freefall part of the jump.
The most popular – and possibly the most difficult – position is called the "head-down" position.  Just like it sounds, jumpers must fall headfirst and keep their heads and bodies in the upside down position while they create their formations.  What makes the stunts so difficult is that the vertical hold of the body is so contrary to the natural belly flop position that entails a formation of jumpers whose bodies fall horizontally.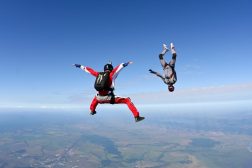 In all, the Artistic Events include several routines that are performed over the course of 7 skydives by teams that consist of 3 members – 1 or 2 performers and a cameraflyer.  The cameraflyer captures images of the stunts on film, and the images are used for judging the performances based on technical and artistic criteria.