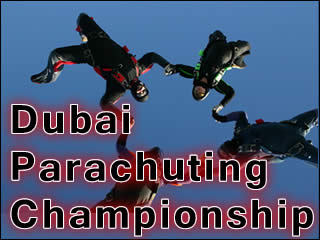 With a prize purse totaling $230,000 , there was no shortage of elite skydivers from around the world vying for a shot at the cash. Over 400 world class skydivers from 45 countries descended upon Dubai from January 6 – 18, 2010 to take part in the first parachuting championship in the UAE.
American pilots took top spots in several of the events including 1st and 2nd in Individual Distance Canopy and 1st in the team 4-way.
Five of the top ten positions went to the USA competitors in the overall Canopy Combined.
Forty year old Jonathan Tagle from Murrieta, CA took 1st place in the overall canopy competition. His skydiving resume includes 1st place in the 'World Championships of Canopy Piloting' , 1st in the 'U.S. National Championships', and numerous 1st places in 'swooping competitions' from around the world.
Full competition results can be found at:
Check out this dropzone…